Advance Productions Inc. is a private placement agency based in the Philippines with legal entity in the land based placement industry given by the Philippine Overseas Employment Administration (POEA) with current License No. POEA-159-LB-091019-R. API (Advance Productions Inc.) is built on strong values and exemplary service in the field of human resources. We are gearing towards services beyond our client satisfaction committed in providing quality, professional recruitment service and continuous after deployment services to ensures that linkage between job seekers and employers are present and is stable and secured.

We firmly acknowledge the proficiency of Filipinos as highly competent, skilled, flexible and culturally adaptive.   Filipinos who would be an asset to any company in terms of productiveness, effectiveness and can compete in the global labor market in overall excellence.  Their adaptability and proficiency in written and spoken English (the universal language) give them an edge among workers from other countries. Furthermore, Filipinos are friendly and can easily adjust and blend to the culture of the country where they work.  Moreover, Filipinos are hardworking thereby leaving a distinct mark in the international labor market.

We are specializing in recruitment and placement of professional and skilled workers in the fields of health care, engineering and technical, construction, hotel and hospitality operations, sales and retail management and office support services and many others.

At the onset of its operation, our activity is mainly focused on recruitment and placement of overseas contract workers and caters to the staffing needs of a wide range of industry sector. It provides permanent and temporary requirement of the client companies.

---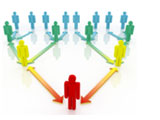 Our Organization
More than 10 Management and staff are based in the Head office alone to professionally and carefully handle your manpower needs. We have structured our organization into business units. The Business Units are independent of each other in order to concentrate more on their areas of specialization.